Here's a colorful rant. I hate U-Haul. Why, you ask? Well Saturday started my long and literally painful experience with U-haul. It took us 45 minutes to get a crappy truck that I had scheduled two days in advance. It took this long because the woman that was suppose to be helping us said that she had to step outside to check our truck. However, when we inquired as to what was taking so long we found her outside attaching a hitch to someone else's truck. N0rmally not such a big deal but we weren't getting the truck till 4pm on a Sat which doesn't leave much light to move furniture.
We finally did get the truck and I signed a paper that said that I had read the operating instructions (I was informed not to worry they were in the glove compartment), and that I was going to bring the truck back clean. Oh, what a sense of humor this U-Haul company has, there was no operating instruction book in the glove compartment box! And clean, if by clean they mean torn interior, an inch of dust on the dash, the smell of a dirty motel, and 10 cig butts in the ashtray then clean it was!
We drove the truck 60 miles that day and I don't think we were able to get it over 55 mph and just for kicks sometimes, on the beltway, the spedometer needle would drop to 45mph for no reason. Silly truck.
At one point, some out of state driver cut us off and when we went to blow the horn it sounded like a pissed off whale. Not very intimidating I would imagine.
To top off the whole ordeal, I hit my head 3 times on the overhang; because once just isn't enough.
breath, breath,

breath, breath

, breath, breath,

. Ok, back to normal.
In more exciting news...I went yarn shopping!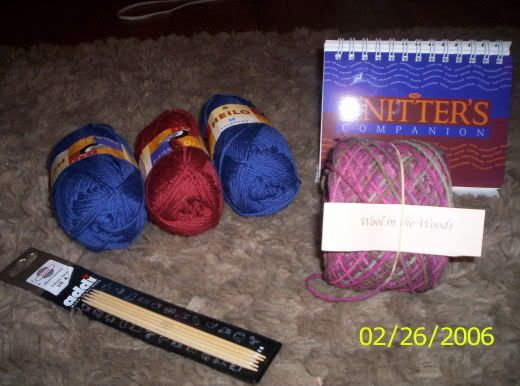 Here it is, all I will need to make my first pair of socks and a hat for Mamasita! I have never made socks before and went to my LYS (local yarn store) without a pattern or guage requirements. I am pretty sure I trust the ladies that work there but if, due to the size of the needles they sold me and the bulk of the yarn, I end up with one sock that could fit Big Bird instead of two cute , size 7.5 socks I will be upset.
I am going to make a really cute floppy summer hat for Mamasita out of the grape and vines cotton yarn. The maker of the yarn is Wool in the Woods. I've never worked with it before but it feels as though it will maintain a nice shape for the top of the hat and allow the lower portion to flop appropriately. We shall see.